INFORMATION
ほや粕漬 Sea squirt pickled in sake lee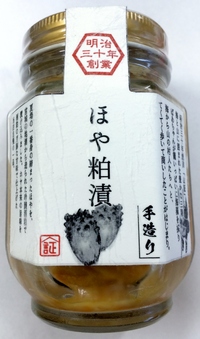 Product Features:Sea squirt, a typical dainty in Sanriku Coast. We use the sea squirt exclusively caught during June to August in Sanriku coast harboring the nutritious ocean. Thick and rich taste of sea squirt is pickled in Ginjyo sake lee made from sake in Miyagi. The natural taste of sea squirt and faintly sweet and rich taste of sake lee are well combined. Our original product that you cannot find any other place. We obtain only fresh material directly from fisherman in Kesennuma in Sanriku, and produce rich taste of the product with using traditional production method succeed for generations and skillful technique of the specialists.
About the product (How to eat, how to use):You can enjoy after thawing. Good for a dish with rice, relish for alcoholic drink, and for unique ingredient of sushi. Due to its unique taste, some people don't like this, but once you are attracted to its taste, this is addictive. We can provide 1kg package also. We also have various marine products such as perilla taste sea squirt, sea weeds (Nori, Mekabu) products, fish and vegetable picked in sake lee, picked squid, etc.
To customers:The bottled products are good for retail sales, and the packaged products are recommended for business use in hotels and Japanese restaurants and bars. This dainty, sea squirt, having unique flavor is good for the people seeking new taste and flavor.
贅沢ひとり焼き笹かまぼこ ギフト箱入Special Steamed Fish Cake in Gift Box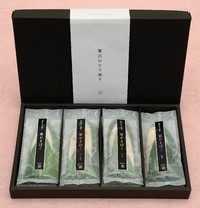 Product Features
:"Special Steamed Fish Cake" is sold in a frozen state, the consumer is a product that yourself bake their after thawing. It is the most delicious moment of fish cake is a product that enjoy a "freshly baked". The content of the set is in 4 types. Plain type, in oysters and bonito of Kesennuma, and in "Hoya"of Sanriku . We had special rapid freezing, so it can not be re-frozen after thawing. Since preservatives are not used at all, after thawing, please enjoy as soon as possible. Using materials that makes full use of the characteristics of local Sanriku-Kesennuma, we deliver a flavorful products to the whole country.
About the product (How to eat, how to use)
:After thawing, it pierced the bamboo skewer of accessories, used with a toaster oven or a frying pan, and bake until the surface is golden brown over high heat. Please enjoy the "freshly baked piping hot". In the commercial, or to provide baked in front of customers, it served while we enjoy to offer in the charcoal stove and set your own. Besides we offer a variety of products of frozen shipping correspondence.
To customers
:In Gift box is, as with retail stores and gift items. So we have IQF products are also available for business, hotels and Japanese restaurant, even pub restaurant, etc. are available. It is recommended to those who are looking for a new one. There are 8 pieces set(4 types each 2 pieces) and 4 pieces set (4 types each 1).
さばの塩焼き Grilled mackerel seasoned with salt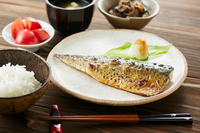 Product Features:We have made them lavish use of large-scale Japanese Chub-mackerel with just enough fat. Baked soft and fluffy using the overheated steam.There are 2 types of taste. ①「Grilled mackerel seasoned with salt」 are plain salty taste. The other one is ②「Grilled mackerel seasoned with mirin」 , it is slightly sweet, and so it brings out the taste of mackerel. Also there is good compatibility with bread and all small bone was removed manually. About the product (How to eat, how to use):After thawing, you can eat as it is. In addition, after thawing, and warm 1 minutes and 30 seconds in the microwave (500w), you can eat more delicious. Because all small bone was removed manually, it is possible to eat peacefully. You can enjoy the natural taste of mackerel and plain salty taste with grated radish and soy sauce. To customers:Retail store sales. For business, Hotels and Japanese restaurants, and pub restaurants. Not only Japanese food style, because there is good compatibility with bread, we recommend to the bakery shop too. There are individual vacuum pack packaged.
活力ある職場づくりを支援します!【海外人材の雇用支援:産業技術者・特定技能外国人材・技能実習生】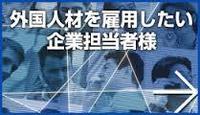 「産業技術者」の雇用支援、「特定技能外国人材」の受入れに係る支援を行っております
・登録支援機関:登録番号19登-000002
「外国人技能実習制度」を活用した技能実習生の受入れを行っております
・監理団体許可番号:許1702002104
・監理団体の業務の運営に関する規程は下記リンクよりご覧ください
 https://00m.in/7Y74C
お問い合わせページからお気軽にご連絡、ご相談ください
貴社の商品・サービスを海外へプロモートします!【海外事業進出支援・食品輸出入支援】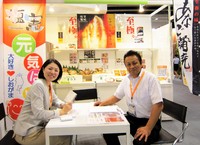 香港・シンガポール・ベトナムへの食品輸出支援を行っております。現地バイヤーを国内に招聘して行う商談会への参加、現地開催の食品見本市等への出展や現地商談会へも積極的に参加しており、これらの活動を通じて商品・サービスを海外へプロモートし、販路の拡大と輸出の促進を行います。
お気軽にご相談ください。
アクリルシリコン樹脂水溶系遮熱塗料「CLEAN COAT CC100」販売開始!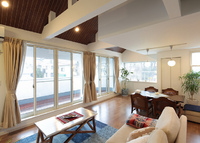 水廻りの修繕・ガラス修理・空調設備の点検・施工から住宅のリフォーム・一戸建て住宅・外構工事まで幅広いニーズにお応えしております。
施工業者様へ:今後、東北地区でも需要の増加が見込まれるアクリルシリコン樹脂水溶系遮熱塗料「CLEAN COAT CC100」の取り扱いを開始いたしました。高反射・高断熱・高排熱・高耐候性・防汚・抗菌機能を備えた、地球環境にやさしい多機能エコ塗料です。一般住宅からマンション、工場、倉庫、仮設ハウス、物置まで用途は様々。下地もコンクリート、スレート、ALC、鋼板、折板、合成樹脂、プラスターボード、木質と素材を選びません。施工方法も、刷毛塗り、ローラー塗り、エアーレスで塗装できます。
詳しくは、お気軽にお問い合わせ下さい。